---
Masks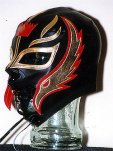 These are the professional style which along with others are available at Luchaswag.com, I recommend this site, the masks are top quality and cost $70US, most styles of these masks can be custom ordered with your choice of colors, materials and size. The site also offers cheaper kids' masks and commercial masks.



This mask costs $40US, it appears to be the same quality as the ones offered at Luchaswag but they may not have the same wide selection, I believe that this may be the only style availabe. The site also offers masks made by the same shop and same man who made the actual masks worn in Rey's matches, but they will cost you $195US. Check it out here!
T-shirts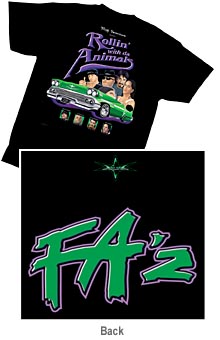 Grab this good looking tee for $20US at WCW gear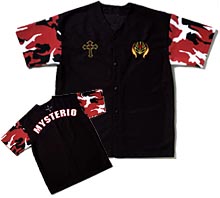 This is my favourite shirt, wicked design, looks awesome but the price is Justin Credible, $60US and $5 shipping! Anyway check it out at WCW gear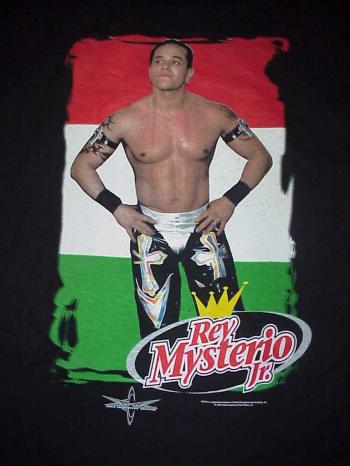 This is a nice Mexican style shirt for the true classic Mysterio fan available at highspots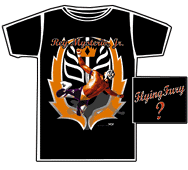 This shirt looks alot better and WAS AVAILABLE at Highspots for $14.95US, which I thought was great but for some reason is infortunately, no loger there, if you really want it you can try asking them about it.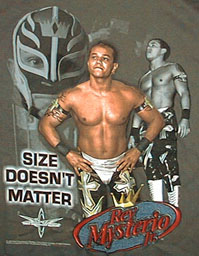 This a very well designed shirt available here at Attitude Tees. It costs 18.99US, definately a better value than the one offered by WCW.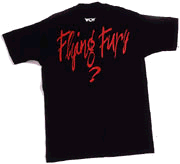 This t-shirt is available for $20US at the official WCW page. Click here or on the image above to go to the WCW ProShop section where it is displayed. They also offer Rey Jr. lapell pins here!


Hats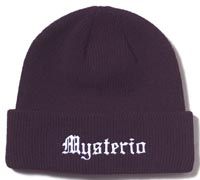 I've received many requests to buy this hat, well I found it and was suprised by the amazingly low price of just $10(US). Grab yours at WCW gear


Music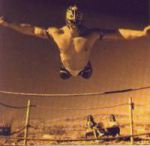 This is a purely Rey Mysterio Jr. CD, only 12minutes long but still the best 12minutes you'll ever here, for $10US it's your call. Available once again at highspots
Video
Rey Misterio Jr. - Unmasking Tribute
The footage WCW doesn't want you to see, featuring the "mask v. mask" match between Psicosis v. Rey Jr from Tijuana. Rey was going to drop his hood to Psicosis in front of the home crowd, but the Lucha Commission prevented the fraud (he had lost it earlier in the week on a WCW PPV). Anyway, this video has a never before/since seen music video with Rey Jr, lots of interview footage, the above-mentioned match, other exclusive Rey matches, and locker room footage of the boys while in Tijuana. A real unique treasure for only $10. 60 minutes. This video compilation is available at highspots
Figures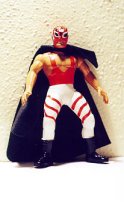 This figure is available at Highspots. The cost is $10 or 3for$25.
More figurines and other unique Rey Jr. items can be purchased at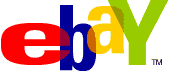 . This is a great place to buy or sell Rey Jr. items, they commonly have autographed 8x10s too!